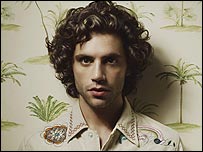 Wie
jedes Jahr
gibt es auch heuer wieder das Trend-Ranking der BBC zum Thema "Sound of Music 2007".
And the winners are:
1.
Mika
(der Herr auf dem Foto; er klingt ein bisschen nach One-Man-Scissor-Sister)
2.
The Twang
3.
Klaxons
4.
Sadie Ama
5.
Enter Shikari
6.
Air Traffic
7.
Cold War Kids
8.
Just Jack
9.
Ghosts
10.
The Rumble Strips
Von diesen 10 Künstlern findet man übrigens
10
auf MySpace. (Manche haben zusätzlich dazu noch eine eigene Website (oben hab ich aber nur auf die MySpace Profile verlinkt) Der Trend der letzten Jahre (siehe
Arctic Monkeys
oder
Clap your Hands Say Yeah
), Musik unbekannter Künstler über My Space einem riesigen Publikum zugänglich zu machen, setzt sich also weiter fort.
MySpace unterstützt diese Entwicklung durch
Featured Artist Lists
, Suche nach
Bands
aus bestimmten Ländern (zB aus Ö:
Kruder und Dorfmeister
,
Electric Indigo
, etc.), Featured Downloads,
Klingeltöne
von noch nicht unter Vertrag stehenden Künstlern, Featured Videos, ....
Der Guardian hat übrigens auch eine
ähnliche Liste
herausgebracht (auch diese Musiker findet man natürlich auf My Space - zB
Art Brut
).
zuckerwatte - 7. Jan, 13:01 über
Trends