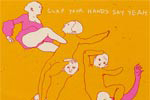 Die Indie-Rock-Band
Clap Your Hand Say Yeah
wurde von den
BBC Trendspottern
auf
Platz 2
der Anwärter auf den Titel *Popstar 2006* gewählt.
BBC dazu: They are: New York indie five-piece who were one of last year's biggest
word-of-mouth success
stories. Auch der
Wikipedia-Eintrag
beinhaltet einen Hinweis auf die Selbstvermarktung in der Blogosphäre:
Their debut album, Clap Your Hands Say Yeah, was self-released in 2005,
receiving attention from numerous MP3 blogs
and then a very favorable review from Pitchfork Media, who gave the band a "Best New Music" commendation.
Auf der Suche nach Spuren, bin ich auch auf
diesen Guardian Artikel
gestossen:
...but the
notion of the internet as a hotbed of new talent
has been further bolstered by the story of a Brooklyn-based quintet called Clap Your Hands Say Yeah. They
self-released
their Talking Heads-influenced
debut album via their website
and managed to shift 25,000 copies after a glowing review on another website, pitchforkmedia.com.
Die Jungs haben also kein Plattenlabel im Hintergrund gehabt, als sie ihre Songs veröffentlichten; sie haben ihre Songs im Web veröffentlicht und auf den Buzz unter den virtuellen Fans gehofft...und damit gewonnen. Glück gehabt oder alles richtig gemacht? Ich weiss das leider auch nicht, doch ich bin der Meinung, dass man als Musiker oder Möchtegern-Radiomoderator jetzt eine größere Chance hat als vor Web 2.0 (or whatever you might call it). Die Möglichkeiten zur Verbreitung von Informationen sind groß wie nie - es gibt zu jedem erdenklichen Thema Blogs, Podcasts etc. Vielleicht gibt es im deutschsprachigen Raum noch nicht soooo viel Aufmerksamkeit - dafür gibt es aber auch noch nicht soooo viel Konkurrenz - think about it!
Übrigens: im
Clap Your Hands Say Yeah Blog
kann man natürlich einige ihrer Songs downloaden ....schräger Sänger ;-)
zuckerwatte - 8. Jan, 16:01 über
Trends