So, endlich wieder mal ein sinnvolles neues GMail-Feature:
Mail Goggles
.
When you enable Mail Goggles, it will check that you're really sure you want to send that late night Friday email. And what better way to check than by making you solve a few simple math problems after you click send to verify you're in the right state of mind?
Bevor das - hoffentlich nicht im betrunkenen Zustand ausgeschickte Mail - rausgeht, hat der Sender noch einige Fragen zu beantworten: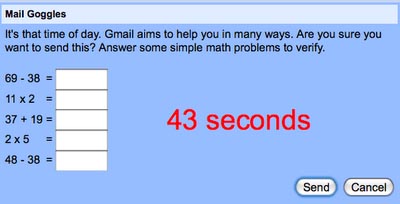 Ja, ich denke auch, dass diese Feature uns vor einigen Mails bewahren wird, die wir eigentlich nicht raussenden wollen. Thanks Google.
Update:
hier
ein Test von Time